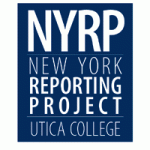 The New York Reporting Project at Utica College
The New York Reporting Project at Utica College (NYRP-UC) is a non-profit journalism organization focused on local and New York state issues. NYRP-UC will produce high-quality stories across media platforms to be published by media partners as well as on the NYRP-UC website. Without the commercial pressures and time constraints of daily news, the staff at NYRP-UC will be able to dedicate the time necessary to produce quality in-depth reporting important to all New Yorkers.  Located at Utica College in central New York, the NYRP-UC is one of the first college-based, non-profit news sites in the nation.
The NYRP-UC will also work with the journalism program at Utica College to train the next generation of journalists. Students will assist in the reporting and producing of many NYRP-UC stories.  Working under the supervision of the Director of the NYRP-UC, students will also develop their own stories, which may be published on the NYRP-UC website as well as elsewhere in the media.